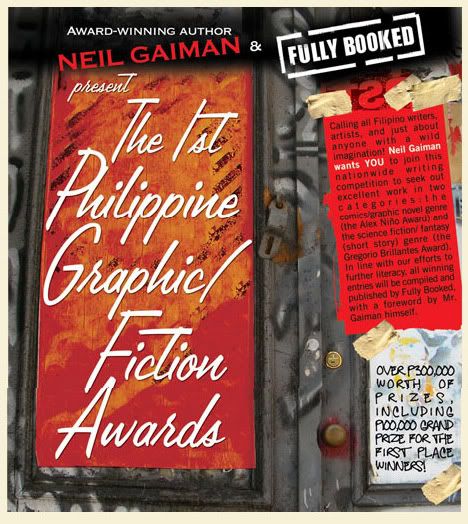 Earlier on the month of December, I was informed by a friend that Fully Booked and Neil Gaiman is having a Comic book writing contest and he told me that he wasn't sure of the guidelines so I have to go to Fully Booked to ask for it. I totally forgot about it because I'm too busy preparing my things and ticket to go home to the province for the Holidays. Then, just this very moment I decided to open my blog and put some entry before the year ends, I decided to greet friends through their blogs. I came acros Gerry Alanguilan's blog and I saw a link of the contest. I then remembered what my friend told me so I tried to open the site but I just can't register because it always says "Page Cannot Be Found." So I decided to try to join the contest by going to Fully Booked and register there by myself in person instead of registering online.
I want to try to join and try my luck. Who knows I might win! Hehehe. Though I know that it would be a very hard competition because they are really talented Filipinos out there waitting to be discovered and Contest and Opportunities like this will showcas the "Totoong Galing ng Pinoy,"
Even if I will not make it or won't be able to join, I will still try to make the best of it and try to create a good story.
Below is the guideline that I've saved from one of Gerry's blog readers. Just click this link for the Contest Guideline. Wish us all the best!!! Go Pinoy!!!