My flight going to Davao is 10 am so by about 7 am I headed to the airport. It took me a moment for me to travel from my place to the airport because, strange as it may seem, the traffic was light.
Upon arriving at the airport I was shocked at what I saw. The queue is so long and we even have to extend the line beyond the airport premises. Most of the people there were already complaining. many flights have been delayed. There's just so many people waiting in the line to enter the pre-boarding area. Never did I saw that crowd in the airport before, maybe because of the Christmas rush thing. There were as much foreigners as Filipinos there. Most of them going to Boracay, Camiguin and some places in Mindanao. Some of them complained but most of them take the issue lightly.
There was one incident that two people argued because on of the lady make singit in the queue so she was sita by another lady whom she cut across because of inserting ahead of her. They were quarelling so loud and most of us are watching the scene forgetting our aching legs because of standing too long in the line. It became some sort of entertainment. It was cut short by airport people because all those who have 9 am flight have to go first and the other lady was on that flight. Luckily for the lady, who inserted the other behind her didn't complain. Even all of us knows that she's not originally on that line. After the complainant leave, the lady starts talking things that she's there all the time, that if she had no baggage she might have fist fight with the other lady and etc. So we just smiled pretending we didn't hear her.
When it's time of boarding of passengers, we hurriedly went to the airport bus to send us to the plane. One of the passenger of the same flight that I'm in was the 2nd runner of Close Up to Fame. What a flight.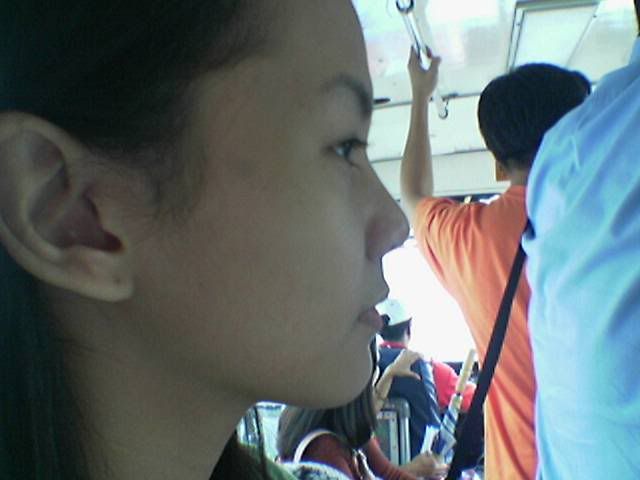 Upon arriving the Davao airport I saw the lady who inserted herself in the line, she was on the same flight as I have. Hehehe luckily I'm not the one she cut short in the queue because I will probably do what the complainant did and so much worst.
I was fetched by my parents, my tita and my sister. Then we went to Victoria Plaza and NCCC Mall to buy equiptments for our bar. Then we went home.