My flight schedule tomorrow, going back to Manila, is about 07:30 in the evening. I am not very excited to be back yet I have to. The reason why I am feeling such way, aside from missing my parents, my siblings, and my relatives/friends, is that I'm saying goodbye to marangyang buhay as well.
Anyhow, while I'm browsing through my stuffs to bring back with me to Manila, I saw on our table in the living room the jar that was given to me by my college friend Aya and inside it were all the tokens and mini gifts given to me by my friends way back in college. If I can remember it right, I received those gifts before the start of Christmas holiday of 2001. Upon seeing it, all the nice memories that I've had in college came rushing back at me. I just noticed myself smiling alone looking at the jar. It was such a very nice feeling and it soothes me. Oh college life - such a blissful one.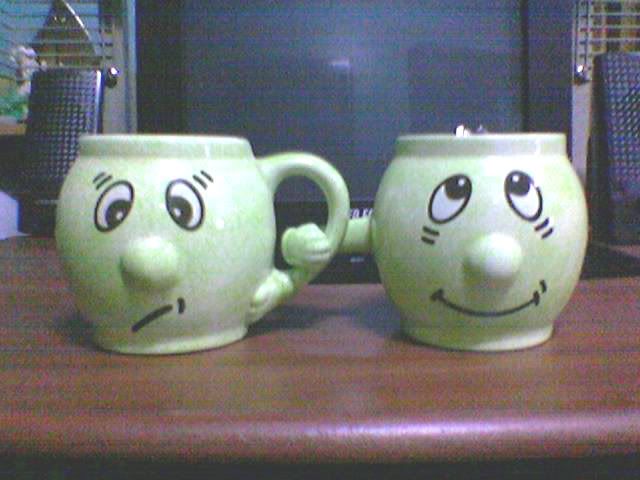 Aside from the jar. I also found the mugs that was given to me by my former girlfriend. I was looking at it for too long and suddenly burst out laughing. I just can't help it but reminisced the old times. How we came to be and ended as friends. Anyway, there was a story why she gave me the mugs. When we usually go out and roam around the malls, she usually holds my hand or put her arm around my arm as we stroll. We were so much young then and it made me uncomfortable but since she love doing it and I love her then, I compromised. Every time she do that, our friends would notice our expressions. Me being too conscious and she's all proud. 'Ey, I'm not saying that I'm not proud it just seem too awkward for me at that point in time. Our friends told her about that and when she came looking for a perfect gift with her bestfriend they were thinking of what would best represents the scenario. When her bestfriend spotted the mugs, they both agreed to buy it without even talking and wrapped it and gave it to me as a gift. So that's the story behind the cute colossal mugs and why I laughed like mad.
It was such a happy moment for me. Remembering the good times and reminscing it like it just happen yesterday. That's the reason why college life for me is far more better (best) than high school life.