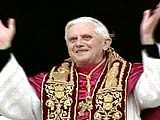 Joseph Ratzinger, a Hard-Line German Cardinal, Is Elected Pope and Takes the Name Benedict XVI
By VICTOR L. SIMPSON Associated Press Writer
VATICAN CITY Apr 19, 2005 — With unusual speed and little surprise, Cardinal Joseph Ratzinger of Germany became Pope Benedict XVI on Tuesday, a 78-year-old transitional leader who promises to enforce strictly conservative policies for the world's Roman Catholics.
Appearing on St. Peter's Basilica balcony as dusk fell, a red cape over his new white robes, the white-haired Ratzinger called himself "a simple, humble worker."
The crowd responded to the 265th pope by waving flags and chanting "Benedict! Benedict!"
Click here for more news
>>>