Another set of photos I took were featured at Business Mirror today (12/22/2008) on two different articles. The articles "Celebrities Do Double Duty" and "'Inabel All The Way" were both written by C. Mendez Legaszpi. Thank you so much Miss Charlize for the opportunity, photo credits and the early Christmas gift.
Below are the articles:
Celebrities Do Double Duty
by C. Mendez Legaspi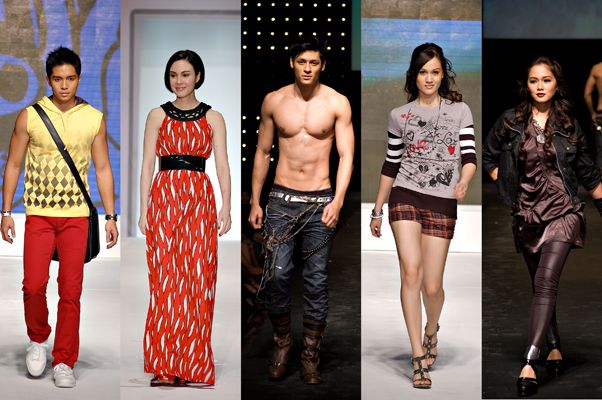 'The explosion of the tabloid press and the Internet has made the general public kind of insatiable" when it comes to celebrities, Estée Lauder president John Demsey remarked to Time's Style & Design in Fall 2006. "People want a sense of familiarity with the people they look up to these days." This opinion takes on a factual urgency when you consider that retail labels have been consistently using familiar faces as a marketing tool to sell their wares.
The stars, too, have seen the profit potential of such a partnership and have, naturally, agreed to be endorsers of all kinds of brands. Don't wonder then if these stars are averse to ambush interviews or random paparazzi shots. It's an "invasion to privacy," they wail. Truth is, they're just "protecting the commodity," i.e., themselves. Stars don't have a stream of income from a stolen shot. What they want is control of their image and how they are presented to the public.
This is where an endorsement deal becomes desirable for a star, who can rake in millions in the process. For a brand to build and solidify its market position, it makes business sense to attach itself to a recognizable face. Get Laud!, for instance, was generally unknown until it got the ingénue Roxanne Guinoo. With leads in ABS-CBN soaps and sitcoms, the starlet did wonders to the sales of the fledgling clothing brand.
Guinoo's fellow Star Circle Quest finalist Melissa Ricks was commissioned by lifestyle label Penshoppe to be one of its cliquish endorsers. With her loveteam-mate Matt Evans, both appeal to the brand's youth target market. The multitalented Maja Salvador hawks for Folded and Hung (F&H), long the turf of Claudine Barreto and Angel Locsin. While the latter two are positioned for the chic working-class females, Salvador serves the company's aim to lure the perky, younger crowd.
---
ROXANNE GUINOO for Get Laud!
---
While Penshoppe snared Akihiro Sato (and scored a coup when JC Tiuseco, recently declared the Pinoy Sole Survivor, walked the runway at Philippine Fashion Week), F&H grabbed the equally hot Hideo Moraoka to be its billboard boy. The Japanese-Brazilian may not have cinematic ambitions like his countryman Akihiro but his appeal knows no borders, helping the once-boring brand attain a combustible status.
---
CARMEN SOO for Petit Monde
---
Still smiling—and selling well—are bosom buddies Gretchen Barreto (for Plains and Prints) and Ruffa Gutierrez (for Avon Fashions). After scandals and heartbreaks, the cachet of these great beauties increases exponentially. Both also hawk for Pantene. As long as they are in the public eye, for good or ill, their fame serves their benefit.
To complement its loyal stable of endorsers (Sunshine Cruz, Jodie Santa Maria and Cheska Garcia), Petit Monde introduced Malaysian superstar Carmen Soo. Gaining fame starring opposite Jericho Rosales, Carmen endeared herself to the public as the prudish but charming Carrie in the concluded soap Kahit Isang Saglit on ABS-CBN. "We didn't have a hard time in the negotiations. She went to one of the Petit Monde stores and liked what she saw," said PM's owners, the Tan siblings, adding that they believed that Carmen signed on because she loves the clothes (50 percent) and is satisfied with the paycheck (50 percent).
All this luring of stars super and up-starts has been mastered to a science by the biggest lifestyle brand of them all—Bench. Not content with its already dizzying lineup, it launched over the weekend the current hottest property: Karylle. Shedding her prim image, Karylle also shed some of her clothes to be the image for Bench Body. Suddenly, the proper Miss Tatlonghari is no Pollyanna after all. (Philippine Fashion Week photos by Henry Anima II)
---
IN PHOTO --
KARYLLE for Bench Body
---
'Inabel' All The Way
by C. Mendez Legaspi
---
CORY QUIRINO in Dita Sandico-Ong
---
In its continuing efforts to make abel Iloko as useful as piña and jusi, the Ilocos Sur provincial government staged a unique showcase, Tawid Ken Partuat Red Fashion Show, at the SM Megamall Megatrade Hall, participated in by the northern province's political bigwigs and social lights.
Directed by Cata Figueroa Jr., the fast-paced "heritage and crafts" show was a display of pomp and color as the locally woven abel fabric enjoys a resurgence among the country's high-fashion purveyors.
"It's worth to note that this project was made possible by the provincial government of Ilocos Sur, headed by Gov.
---
DEPUTY National Security Adviser Luis "Chavit" Singson in Roel Rivera
---
Deogracia Victor "DV" Savellano. It was the first time that the bigwigs of Ilocos Sur politics, such as Assistant National Security Adviser and former governor Luis "Chavit" Singson, Rep. Eric Singson, Rep. Ronald Singson, President Elpidio Quirino's granddaughter Cory Quirino and Governor Savellano, together with local politicians and society figures, were present in one affair," says Winona Santos, the overall project coordinator.
Since the start of his tenure, it has been Savellano's vision to promote the province as a "wholesome, safe and secure vacation destination with personnel capable of delivering world-class services" anchored on five tourism market niches: coastal, heritage, pilgrimage, events and agri-aqua.
---
BOARD member Chuchi Purisima in her own design
---
From blankets to bed covers, pillowcases and place mats, abel Iloko has also penetrated the high-fashion firmament. At the Tawid Ken Partuat show, Randy Ortiz, Edgar San Diego, Avel Bacudio, VJ Floresca, Dita Sandico-Ong and Rhett Eala dressed the politicians and their scions in abel Iloko finery.
The show signified the provincial government's mandate to preserve and promote the economically viable abel-weaving industry. The traditional craft follows a complex intricate process—from preparing and dyeing the yarn, to arranging different colors of yarn to produce the envisioned design, and operating the wooden handloom with the synchronized movement of hands and feet. (Photos by Henry Anima II)